Always looking for some new dietary supplements to play with, I finally decided to review a well-known product: Hydroxycut Hardcore Elite, considered as a fat burner.
Fat burners are most of the time thermogenic compounds; that increase heat production through a metabolic rate increase. For example, caffeine and green tea are both thermogenics as well.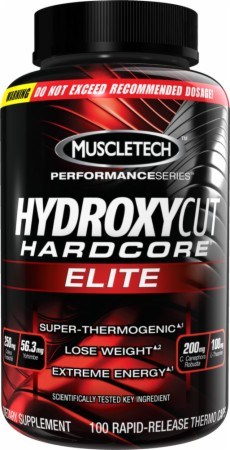 Hydroxycut Hardcore Elite
This product is presented as a "4 in 1" formula, 2 capsules contain the four following ingredients :
200 mg of green coffee extract.
100 mg of L-Theanine (theanine is an amino acid you can find in green tea).
270 mg of anhydrous caffeine (a dried form of caffeine).
250 mg of Coleus Forskohlii. It's a plant whose active ingredient increases cAMP (Cyclic adenosine monophosphate).
For your info, there is around 200 mg of caffeine in a large coffee; so two capsules roughly delivers the same amount of caffeine. As for theanine, 100 mg contains the equivalent of 3 cups of tea.
So…by taking two capsules, you end up ingesting the same amount of caffeine and theanine as one large coffee and three cups of tea.
Dosage
On the internet, I found the recommended dosage to be from 4 to 6 capsules a day; which means 600 mg of green coffee extract, 300 mg of L-Theanine and 810 mg of anhydrous caffeine. Hard stuff to beat if you want to stay up all day!
Studies
The marketing of this product is centered around two things:
First, the ingredients and their amounts, which is often obscure when it comes to weight loss supplements. We don't really know sometimes what the stack may or may not contain; and how the ingredients are dosed.
Two clinical studies, during which the subjects apparently lost up to 10 pounds in 2 months, by using the green coffee extract (Coffea canephora).  The placebo group only  lost 5 pounds.
The second study, which lasted 8 weeks, showed that the subjects lost up to 4 pounds using green coffee extract.
But…In my defense, I have two things to say!
First of all, I did not find these studies anywhere. If you find them, shoot us a comment!
Secondly I only found one study1 that analyzed the effects of green coffee extract.
This study, led in 2010, concluded:
The evidence from RCTs seems to indicate that the intake of GCE can promote weight loss. However, several caveats exist. The size of the effect is small, and the clinical relevance of this effect is uncertain. More rigorous trials with longer duration are needed to assess the efficacy and safety of GCE as a weight loss supplement.
Moreover, it seems that there was a recall in 2009, when the product still contained Garcinia cambogia (a tropical plant, whose active ingredient is hydroxycitric acid, an appetite suppressant).
This hydroxycitric acid is hepatotoxic; which means a substance that can be harmful for the liver. In 2009, two cases of hepatotoxicity were reported, from people that were taking Hydroxycut Hardcore Elite.
Conclusion
Well…I'm quite disappointed by this dietary supplement. I ramped up to 6 capsules a day, without any noticeable effects. While I was cutting using it, I lost up to 10 pounds, but since I didn't notice any particular effects, this most likely has more to do with my diet than with this product. I also have a nervous temperament, so I may not need any stimulants in the first place.
Beware. Sensitive people should not take more than 4 capsules a day, and even less near night time to avoid insomnia.
Caffeine remains active within the CNS for hours, so there is no need to take any prior to your training. As for me, MyProtein's Natural Caffeine gave me much more effects (not to mention it's cheaper for the same amount of caffeine).
Again, let me remind you that fat-loss agents that really "work" are often illegal. The thing is, we haven't yet discovered any real natural substances for weight loss, except caffeine and green tea. This is also why most of the dietary supplements evolve around these two ingredients.
The other compound I'm thinking about is Yohimbine, an alkaloid from the bark of a west africain shrub, the  Pausinystalia yohimbe. Yohimbine is a selective antagonist of alpha-2, alpha-1, 5-HT receptors.
It is usually prescribed as an aphrodisiac, and it's a strong stimulant that really enhances fat loss. BUT… Yohimbine requires a prescription in many countries. I found this supplement very efficient; especially for targeting stubborn fat (fat that is often located on the hips or thighs.)
Sources
Verdict
Your Rating:
Summary
Because many people consider it as a super dietary supplement, I give it the benefit of the doubt. I wish the company that produces it would have provided us with the two studies they refer to.
Furthermore, price-wise, it makes more sense to drink coffee or tea all day long; plus, these are more convenient for soaking your biscuits.
---