E
rny is the owner of different websites on the Internet. After some emails Erny and I exchanged, I decided to conduct an interview. He has a no-bs approach towards sports and nutrition, and this is what seduced me.
In this interview, Erny shares a bit of his knowledge and insights on the fitness industry, the challenges, as well as his vision for the future.
Hi Erny, could you introduce yourself in few words, as well as the websites you have on the Internet?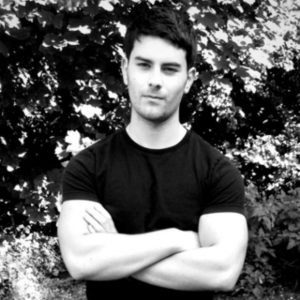 Hey! My name's Erny Peibst and my websites are JackedNatural.com and AreTheyOnSteroids.com. Jacked Natural is about helping guys with crap genetics pack on muscle. The content on there is free and I reveal some of the tips/tricks I have used to help me gain 50lbs of drug-free muscle.
Are They on Steroids is a blog where people can find out if a certain actor or bodybuilder is juicing or not. Although I can't guarantee to be 100% correct all the time, I do dedicate a lot of time researching and compiling real, unbiased evidence.
I really enjoy reading your articles, I see a balance of science and informative information to the readers; could you guide us a bit more about the research you do before publishing an article?
I usually spend 5-10 hours writing/editing an article, when it's to do with someone improving their body composition (building muscle/burning fat).
If I'm writing about something I have a lot of experience with, research can be minimal, because I have a strong knowledge on the topic. Plus I've already trialled and tested it in the gym so I know that it's legit.
Other articles I can spend a good 2/3 hours just making notes and compiling research that not only sounds good – but also works.
You own several websites, is there a consistent theme across them? What is your vision regarding your online presence?
Many bloggers write about the same stuff online, so my goal is to produce content that's unique and stands out…trying not to bore them to tears in the process!
Let's dive into a bit of psychology. As a Marvel fan myself, I found it intriguing that super-heroes are always depicted with amazing bodies, especially western heroes. Why is that? You talk yourself about the unrealistic expectations one could have. So, do you think this a positive inspiration?
If it leads to a person taking steroids to try and look like their superheroes, then this isn't good.
If it leads to a person working out/lifting weights to build muscle naturally – this is great. Chris Hemsworth is a great example of how someone can be JACKED, look like a marvel hero and still be natural.  For proof that Chris is natty check out my report on him.
…Before compiling the evidence for that article, I thought Chris was on steroids.
While we don't promote any illegal substances such as anabolic steroids, we don't ultimately see the devil in them. You seem to have a slightly different perspective on the subject. Would you care to share your opinion on anabolic steroids?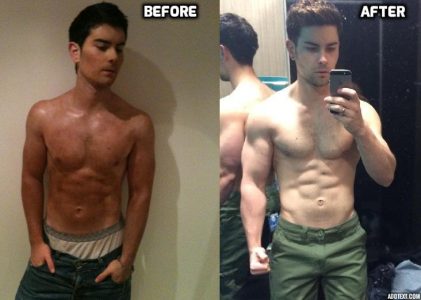 I believe that taking anabolic steroids is wrong. God gave you your body and it's your duty to take care of it and to stay healthy. Not to damage it for selfish endeavour, such as winning a bodybuilding trophy or for vanity.
Steroids will damage your health, the only question is – how much. To a person with unknown underlying health problems, taking steroids can be fatal.
Despite this, I certainly don't judge those who do take steroids and I understand why people take them. I have a section on Aretheyonsteroids.com where I talk specifically about different steroids. However, these articles are to educate people about these compounds, not to promote their use. In these articles I have ads to natural supplements (or steroid-alternatives) which generates my full-time income.
The fitness industry is a huge business (More than $84,3 billion in the US in 2014!). Gyms, supplements, gears, coaching… all are interesting avenues for health-conscious people. Do you think the industry represents a weapon against the obesity epidemic in the US?
Definitely. Encouraging a person to exercise and eat healthy is not only beneficial to a person's body composition and self-esteem; but also to their soul.
Throughout your experience and work with clients, if you could give a single advice to someone wanted to change their body, what would you say?
Don't overcomplicate things. If you want to lose weight, eat in a calorie deficit. If you want to gain weight/build muscle, eat in a surplus. Simples.
I've been myself in the business for quite some time now, however, sometimes, I struggle with finding pertinent research. It seems that there are many incentives from the private sector to market a product ASAP. Do you find difficult to find good, objective, unbiased science research?
In my opinion it's almost impossible to find unbiased research.
It's too easy for supplement companies to fund studies and manipulate the results. If they do, there's millions of dollars in sales in it for them.
The key for me when separating fact from fiction is to test everything in the gym. If it works in the gym and the same methodology works for others too – it works. No need for 'science' or 'studies' to back you up on that.
This is why a lot of the stuff I recommend contradicts what other fitness professionals/PTs say. This is because I never take findings from a study as the absolute truth – I test it.
There are countless protocols that one could follow: ESE, IF, Keto, Paleo, etc. Many fitness enthusiast jump from one trend to another expecting them to be the magic bullet. Could magic bullets really exist?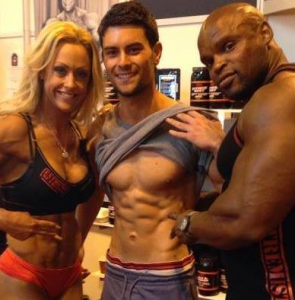 There is one magic bullet that I've come across and it's called…hard work! If you want to lose weight, but you haven't got any will-power – forget it.
If you want to burn fat, all diets will work IF you're in a calorie deficit. It's all about portion control. Energy in vs energy out.
Finally, how do you envision the fitness industry in, say, 5 years?
I don't think a lot will change in 5 years, but I believe the industry will keep on growing. Virtually everyone wants to looks to look and feel better and the people that thought they couldn't do it before 'because they have bad genetics' are now being proven wrong by their friends who now happen to go to the gym!
Unfortunately I also envisage more people taking steroids than before; due to bodybuilders gaining more attention on social media and people wanting to look like their idols.
Thanks Erny for this interview. If you enjoyed it, drop us a comment!
---