I just watched Generation Iron, written and produced by Vlad Yudin. Vlad is also the original producer of Pumping Iron; and I wanted to see how much this one would pump me up as well.
It's more a documentary than a movie, that explores the  dedication, the commitment, but also the triumph professional bodybuilders live. The documentary digs into lives of the bodybuilding elites Phil Heath, Kai Greene, Branch Warren, Dennis Wolf, Victor Martinez, Hidetada Yamagishi, but also Roelly Winklaar as well as Ben Pakulski; all on their journey to be crowned Mr. Olympia.
 I am already a big fan of Pumping Iron, and for so many lifters it is the reference: Pumping Iron is a classic.
I wasn't really sure about this one, and I had prior to watching it a couple of questions, about the kind of spirit it would show up; the kind of narrative, but also what kind of angle it would tackle. And I must say, what Vlad Yudin comes up with here is a fantastic documentary, about weights, sweat, grace and rage. We discover every bodybuilder that is featured, we follow them through their Mr Olympia journey and we see what working towards the title means.
This movie is quite different from Pumping Iron, the narrative is not the same, actors' play is different (acting is quite rare I must say) and the "tone" is not the same. It seems to me Vlad wanted something fresh, a movie more attuned with the current trend and hype around bodybuilding. There is no story, but the journey of the bodybuilders. I was nevertheless disappointed; because the movies lacks balance and doesn't give justice to everybody. It felt like Phil Heath was the superstar, fighting against its rivals – or rival, Kai Greene. But the way the movie has been shot; Phil has the fame and the glory, the cars and the wealth; while Kai looks like this lonely wolf, trying to reclaim the title. Next to both: nothing that is substantially rich and deep.
Roelly Winklaar's style is merely presented, nothing but a fancy relationship with his "mama", her trainer…and that's it.  Ben Pakulski gives us a couple of lines about what it means to be a bodybuilder, as for Dennis Wolf; well… the performance is more than mediocre. Don't get me wrong; I'm not saying he is, but I found that assisting of his rehearsal terrible. It didn't bring any interesting thing to the documentary, is was barely entertaining. I didn't get this part about him repeating for a movie really.
Branch Warren is the man here, with a brutal lifestyle of sweating and rage. As a nature-lover we see his ranch, his horses and his peaceful life; far from any disturbance. Branch Warren trains heavy and this is something we really grasp into the documentary.
I had some pity on Victor Martinez, no matter what the haters say, he went through some serious shit I felt sad for. Victor Martinez is a legend, and he's portrayed as someone miserable, someone Life doesn't give any rest to.
That leaves us with Kai and Phil, two other legends. Here again, it's soft and flat. While Phil is presented as extravagant, as a kid in a huge playing field, Kai is presented as the mysterious person, ready and willing to conquer.
While the pictures are outstanding (some shots are mind-blowing), so the track along the movie, I have the feeling Vlad misses something here: the credit they all deserve. I think so, because roles are not balanced, because we don't get to explore every bodybuilder, their work, their commitment and their efforts. Too much of "not enough". Their diet is left, undiscussed (they often eat, but they don't emphasize it), their training style is untouched (expect for Warren and Ben) and what is left is "The Gift", living his momentum from the beginning to the end. I felt Vlad was trying to push an agenda of some sort; because the lack of a proper structure to make the movie as a whole. I almost could have smell Phil's sponsors playing violin for the soundtrack.
The positive thing is Kai Greene to me, we get to know him and discover his talent, through his paintings, but also his street performances. I didn't know Kai was a true artist; and it makes sense now, the way he poses, the way he sets up his posing on stage, but also his grace ; many don't have.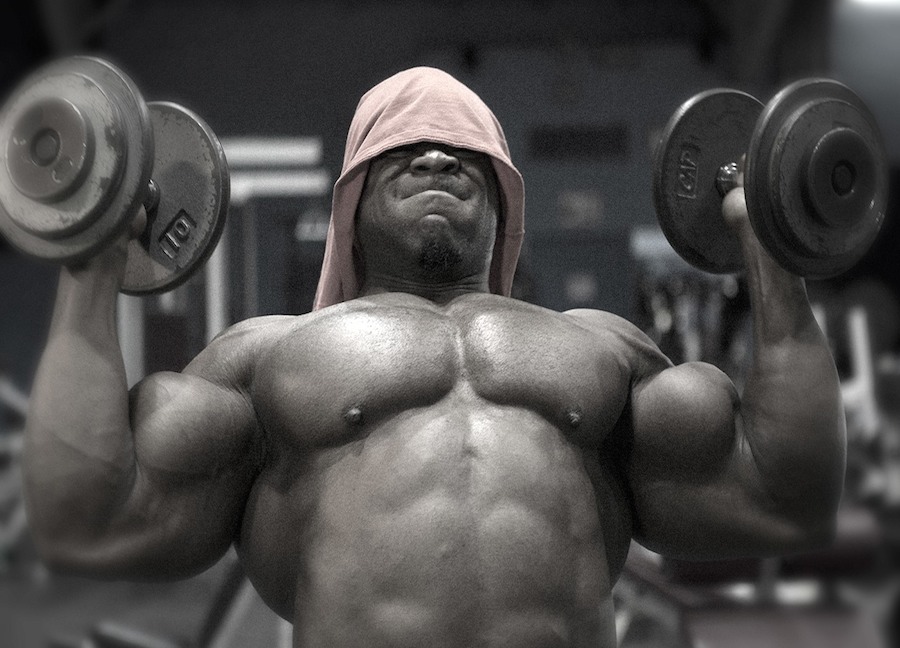 I wished Vlad would explore Kai's life a bit deeper, because he is someone fascinating and amazing ; as I wanted Vlad to explore the other bodybuilder's life; something he didn't unfortunately.
Because the entire documentary is pro-Phil Heath, all others are left into the shadow, without giving us a real taste about what being an elite means.
The message that comes out is more about trying to make us acknowledging Phil's grandiosity, but this shouldn't mean others' talent should be muted.
Finally, the documentary discusses the position about steroids, which is an honest discussion; with no doubt about what it does – or shall I say; what it doesn't do: commitment, perfection, talent and genetics.
Unfortunately, this is what I would have wanted to see more in this movie, because this is also where I need to understand that it doesn't only boil down to steroids usage; but also how fascinating this lifestyle can be. But these remain topics that didn't came near tangential to what is discussed and presented.
So, this is a great movie, but not as uplifting and brilliant as Pumping Iron; and it left me with the impression that it was more oriented towards people looking for big muscles; with no concern to this lifestyle whatsoever; because if that was the case, I wouldn't have this feeling about too many subjects left untouched, or not enough substance to put on display their real talents.
Verdict
Your Rating:
Summary
This is an awesome movie to watch if you don't know what pro-bodybuilding really is.
If you do, it won't be *that* awesome, but you'll feel tiny, as I did.
---